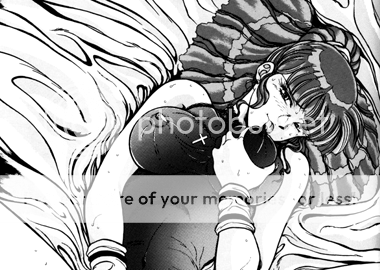 "Accordingly, moved with compassion, she entered somedele into the sea, which was now calm, and seizing Landolfo by the hair, dragged him ashore, chest and all. There having with difficulty unclasped his hands from the chest, she set the latter on the head of a young daughter of hers, who was with her, and carried him off, as he were a little child, to her hut, where she put him in a bagnio and so chafed and bathed him with warm water that the strayed heat returned to him, together with somewhat of his lost strength. Then, taking him up out of the bath, whenas it seemed good to her, she comforted him with somewhat of good wine and confections and tended him some days, as best she might, till he had recovered his strength and knew where he was, when she judged it time to restore him his chest, which she had kept safe for him, and to tell him that he might now prosecute his fortune."
Kawaii Pattycakes: BUSTGUNNER!
prettyprophet: Oh fuck off, that's the only thing you know about the series.
Kawaii Pattycakes: I haven't watched Gunbuster…….I'm so ashamed!
prettyprophet: Fuck off, don't talk about Gainax things around me.
Kawaii Pattycakes: FLCL!
prettyprophet: That had the Pillows. And it was fun (although I'm sure people analyze the fuck out of it all the time).
Kawaii Pattycakes: Gunbuster doujinshi! This is circle Rehabilitation with artist Garland and it's "Salvage 2″! What was "Salvage 1″?
prettyprophet: A Nadia one.
Kawaii Pattycakes: Let's do it!
prettyprophet: Translate it!
Kawaii Pattycakes: I WILL. Ok, I can't. But I'll learn!
prettyprophet: Readers, she's been "learning" the past several years…….it hasn't gone anywhere.
Kawaii Pattycakes: There was only one class for one semester!
prettyprophet: Yeah, plus you SUCK. This doujinshi, proudly translated by ak, features hotshot pilot Jung-Freud living life through one-night stands with Sizzler pilots. You know, past few doujinshi we done were all women on top. Fuck yeah.
Kawaii Pattycakes: I wanted some Jung x Noriko!
prettyprophet: "Salvage 2″ also has a ton of pin-up-esque-though-more-risque pictures……hell, it's half the book. This one's got most of the girls of the cast, so boys, have fun with that.
Kawaii Pattycakes: Wasn't there something else about Salvage that really bothered Ed-o…….?
prettyprophet: Shit, oh yeah, you might notice the 'anal' tag. Page 13 = anal…..or is it? The script sets that up…..and thanks to fucking censoring (gg Japan, way to jump the loophole for PORN but I'm not going to rant about it here) it's unclear whether or not it's actually anal. Well, no. I didn't look at it carefully but once the boys looked at the page…….
Kawaii Pattycakes: Ed, Funny and Ink were all: NOT ANAL.
prettyprophet: Yeah, the action looks a little too close to the clit. Maybe he's just fucking her from behind. Whatever, I made anal a tag here. So you tell us, is that anal sex? Do you want it to be anal sex? Would you want to anal sex the hell out of Jung-Freud? Oh god, that name's hilarious.
Kawaii Pattycakes: I wouldn't mind her anal-sexing me!
prettyprophet: You heard it here first. Ladies, cosplay as Jung, you get to fuck Pat's ass.
Kawaii Pattycakes: Think I can get Ed to do that?
prettyprophet: Yeah, probably. FREE COMMISSION CONTEST #2, click it yo. Yamada Naito raws! Valkyria doujinshi! Blazblue doujinshi! Send it over! Translators, cleaners, APPLY.
Kawaii Pattycakes: Jung-Freud will sex you up!
Additional links:
On Buster Machine III
On Depositfiles
On Hotfile
PSP:
coach
,
doujinshi
,
ecchi
,
gainaxing
,
garland
,
gunbuster
,
illustrations
,
jung x sizzler pilot
,
jung-freud
,
kazumi amano
,
noriko takaya
,
pin-up girl
,
rehabilitation
,
release
,
salvage
,
sizzler pilot