Nanako Dojima x Yotsuba Koiwai! Massive Persona 4 spoilers inside (and Yotsuba&!, I guess)! Not an official release!
prettyprophet: Unsanctioned, unilateral movement……by me and nde. That's right, for once it's not fuckhead Funny releasing any ol' thing. Course, we can still blame him for setting this off.
nde: It was because of the bonus "Nanako&!" end page in "Nda!".
prettyprophet: Yeah, I saw these P4 parodies of Yotsuba&! before too, but I didn't know they were translated. Oh, and Funny, it wasn't done by the anonymous; just check the notes and they got names. Which we now added. It's all on Danbooru……..and I don't have a Pixiv account.
nde: We're not doing them all, are we?
prettyprophet: Nah, just a few where the jokes work. Yo, since this is unofficial and we didn't translate them ourselves; don't go off announcing this on Mangaupdates. Anyways, here's the first one that started this done by Funny:
This one stars Nanako (no shit), Kanji, and the Protagonist/Souji Seta. They're all randomly taken from chapters, so we don't ever get a full chapter-parody.
nde: Starring Nanako, Yosuke, and Naoto.
prettyprophet: Well then, Chie just got some heartbeat, heartbreak. Nanako tries to cheer her up.
nde: Nanako can't ask help from Naoto.
prettyprophet: But hey, they're all precocious in the end, ain't they? Except maybe Yukiko. So yeah, this is as close as it gets to a single cohesive chapter……kinda.
nde: Maybe there's more parodies not on Danbooru.
prettyprophet: Yo, P4 fans, go find it for us.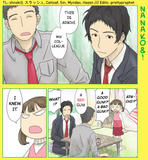 nde: This one was your favorite?
prettyprophet: Hell yeah, great last panel. And……that's all we did for now.
nde: Where's Rise?
prettyprophet: nde choo-choo-choosed Rise in his playthrough. Ain't that cute?
nde: It seemed fitting.
prettyprophet: Thanks to Pat, Lavie, Duck, and Funny for doing a doujinshi that had the two romance links we chose. Bastards. Anyways, yeah, there's NO Yotsuba&!-Rise. There's the rest of the cast…even Fuuka and PHILEMON. No Rise. C'mon, what the fuck? Eh, whatever.
nde: This was our way of returning the favor for the two releases in our names.
prettyprophet: Chea, last year we just said thanks…….and now since all the Rabbit idiots raised the bar, gotta reply in kind.
nde: But thanks.